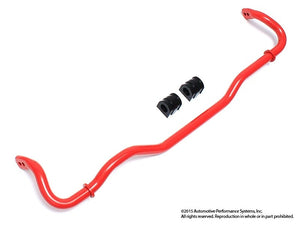 NEUSPEED Anti-Roll Bars give you the ultimate in handling, precision engineered with smooth mandrel bends, aerospace-quality steel, and graphite impregnated urethane bushings. NEUSPEED Anti-Roll Bars improve handling by reducing body roll during cornering, increased steering response and grip, yet retain a comfortable ride during straight-line cruising.
Designed and Tested at our R&D facility in Camarillo, California. NEUSPEED Anti-Roll Bars are tuned to deliver increased stability and handling for all cornering maneuvers on and off-road.
Notes:
Fits:
2017-up Alltrack
2017-up 4 Motion Golf Sportwagen
2022-up 4 Motion Taos
2018-up MQB Tiguan 4-motion
2014-up Audi A3/S3(8V)
Quattro/TT/TTS(8S)
2015-up Mk7 VW Golf R
2022-up Mk8 VW Golf R
2019-up Arteon 4-Motion
Sway Bar Rate:
Forward Hole: 128% increase over stock Golf R 21.7mm bar.
Rearward Hole: 102% increase over stock Golf R 21.7mm bar.
Red Powder Coated Tubular Bar.
2 - Hole Adjustable Bar.
Designed and Engineered Camarillo, California.
Proudly Manufactured in the USA.
The actual part is shown in the photo.