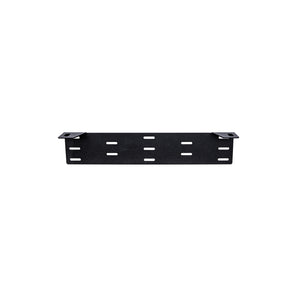 A driving light bracket of the highest quality for a LED bar or two driving lights. The frame is 452×87 mm and CC: 418 mm. It can easily be mounted behind the license plate. Available in both black and stainless steel. Choose the one that suits you and your vehicle best. The bracket is treated with Bonderite®, which gives the absolute best surface and extended durability, of which the black is treated before the powder coating. Bonderite® is a pre-treatment process based on flour-zirconium that builds as a nano-ceramic coating on pure metal surfaces, extending the product's life. Bonderite® contains no toxic heavy metals and is free of phosphates and organic solvents.
*Lights and wiring harness available separately. 
For optimal light stability use Strands top stabilizer braces available HERE.